Limestone landscapes of the Yorkshire Dales : 4 night photography workshop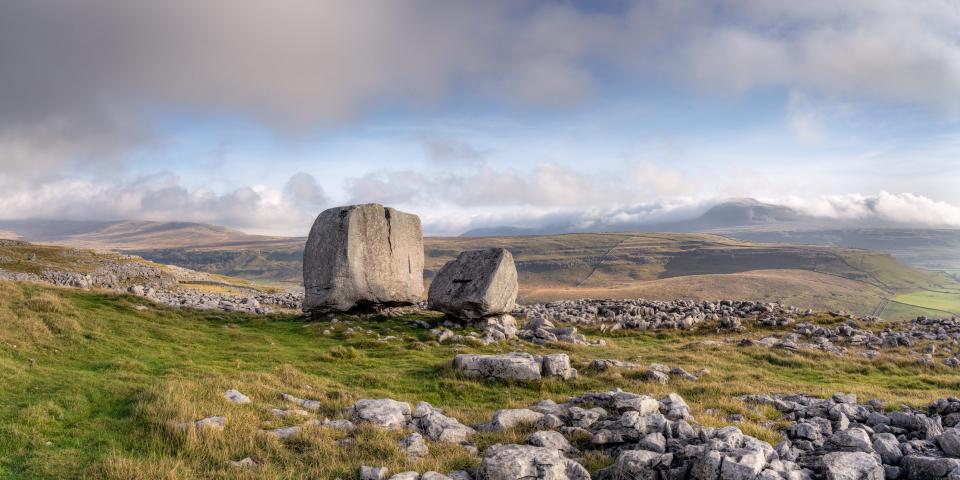 The geology of the Yorkshire Dales is predominantly limestone - an environment that is fascinating, both for the shapes and structures formed over many centuries as well as for the natural habitat it provides - there is always something new to be seen, some marvel to be found. Some of the best limestone pavements in the country can be found here in the Dales, typically set against a wonderful backdrop of rolling terrain, with Yorkshire's highest peaks often visible beyond. Whilst it may be a rock lovers dream, there is far more to it than amazing geology, with a wonderful mixture of woodland, lone trees and smaller plants thriving here. We also are in close proximity to a selection of rivers and streams, complete with the odd spectacular waterfall. As well as this, an abundance of manmade attractions from times past, such as stone field barns, dry stone walls, quaint bridges and the remains of a once thriving mining industry.
We will be based in the lovely Racehorses Hotel in Kettlewell, a charming village and right on the doorstep of many spectacular locations; but we will also venture further afield in the Dales to make the most of the autumn light and colour. In the evenings or during any less favourable weather, we plan to look at some of our images, comparing how we all see the landscape and also exploring the many ways in which we can interpret and process our work.
With a maximum ratio of one tutor to four participants, there'll be plenty of time for us to work in depth, bouncing ideas off each other and looking for potential for images in all types of location - not just the spectacular grand vistas but also the more intimate, abstract landscapes that can be made almost anywhere. We will look at how to make the most of conditions on the day - ensuring any kind light can be exploited to its best advantage. We'll look at using a range of lenses and techniques, with an opportunity to work on bigger landscapes as well as more intimate scenes.
This is a Tripod Travels workshop - running in conjunction with good friend and super photographer / teacher, Alex Hare. Alex and I have thoroughly enjoyed working together for several years now and I've included a link to Alex's website here. If you'd like to see a few testimonials from previous clients, then please look here.
Please scroll down to the bottom of the page for some more detailed information in question and answer format.
Practicalities
What time will the workshop start and finish?

We will meet at the hotel at 3.30 on the Wednesday and will finish by 11.00 on the Sunday.

What level of photographer is this workshop for?

Suited for intermediate photographers and above. With a small group of eight, with two tutors and three days to work with, there will be plenty of opportunity to work with everyone on a 1-2-1 basis.

How fit do I need to be?

Many locations involve a short walk but there will be the odd steeper section as well as the possibility of walking for two or three miles - reasonably good fitness would be an advantage as well as the confidence to walk on uneven terrain and rocky limestone pavement.

Where will we be staying?

At a comfortable hotel in the lovely village of Kettlewell

What gear should I bring?

Camera and a selection of lenses - ideally covering wide angle to telephoto and macro, or at least extension tubes, if you have them. Tripod, spare batteries and memory cards. A laptop to work on images in the evenings. Good walking boots. Clothing for any kind of weather. Comfortable backpack or shoulder bag .Waterproofs for you and your gear. You may also want to bring some snacks and a drink, although we will almost certainly pass shops on both days.

Can I borrow a filter kit?

You are welcome to borrow/share a Lee filter kit - including big stopper, little stopper and ND grads. Please note this is at your own risk, although we've had no breakages to date! Please ask in advance and advise of the filter ring sizes of any lenses you may be bringing. Lizzie is an ambassador for Lee Filters.
To book this workshop, please contact me and I will send you further details and a booking form.

Contact Me

£1275 / £300 Deposit

Dates TBC for 2024 but likely to be autumn - please email to go on waitlist

4 nights

Tuition with 2 professional & experienced photographers/teachers;
Transport to and from our hotel each day;
4 nights en-suite accommodation, with breakfast in a double/twin room;
Free Fotospeed A3 print of one of your images from the workshop;
Loan of a comprehensive filter kit if required
Carbon footprint offset on your behalf

Transport to the hotel, insurance, meals (other than breakfast) and other expenses

8

A reasonable level of fitness advised as well as, ideally, confidence walking on limestone pavement

Kettlewell