Joint workshop in conjunction with Oliver Wright.
After a very successful run out last year, Oliver Wright and I are delighted to be running another foot based one day workshop in the Yorkshire Dales this summer (as well as our usual Flowers & Falls course on 1st June). This will accommodate up to 8 participants and the plan is to spend the day on a circular route, travelling entirely on foot, covering around 5-7 miles. We will of course be stopping constantly to consider the landscape and there will be plenty of time for photography, as well as lots of discussion.
We will meet in Muker and begin and end our walk here. The idea is to immerse ourselves in a relatively small area, spending plenty of time looking for imagery and discussing how we can best capture and portray the landscape. We will look at what does not work, and why, as much as what does work; bearing in mind that subjectivity is also a big factor here. We'll hope for some changeable conditions so we can consider how different kinds of light play can play such a big part in the kind of photographs we create.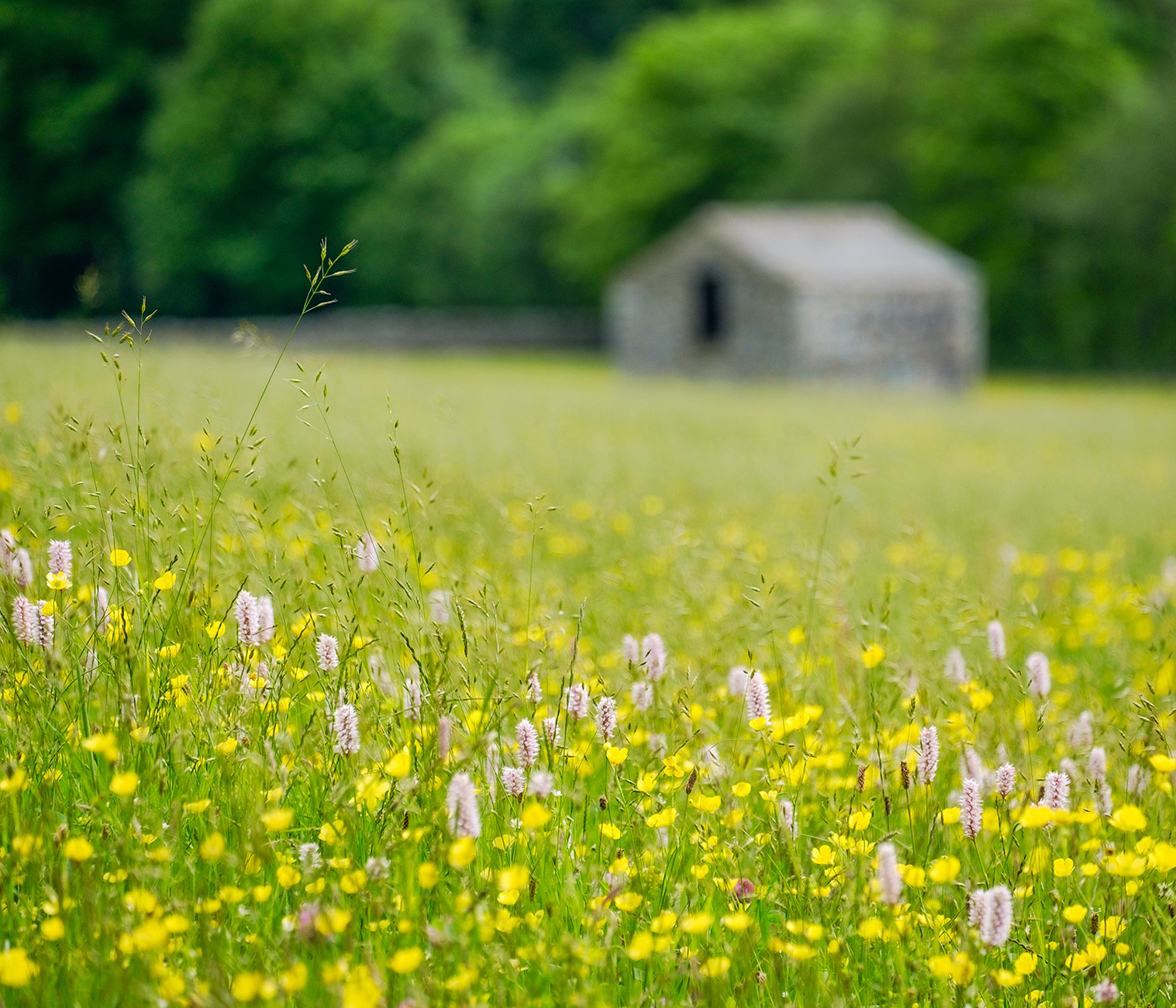 The Yorkshire Dales are famous for the wonderful display of meadow flowers in June. At this time of year we will have the chance of seeing carpets of buttercups and clover, as well as a possibility of catching some other seasonal flowers such as orchids, cranesbill and clover. Butterflies and many other insects can be seen amongst the meadows and many breeds of bird are also very active at this time of year. We will also visit what we believe to be the most picturesque of the Dales waterfalls, see plenty of characterful old barns and dry stone walls, and take in a couple of picturesque rural villages. There is also a beautiful section of woodland that we walk through.
A good level of fitness is required to make the most of the day and we would suggest the format and discussion points planned would best suit intermediate photographers and above. We are there to give you as much help as you would like and you can also take advantage of seeing how two different photographers approach their subject.
We are deliberately keeping things flexible at the moment because the time that the flowers bloom can vary considerably from year to year and, if there is a prolonged spell with no rain, waterfalls may be off the agenda. We will be checking conditions in all of these places before the workshop to ensure you get the best possible experience, hence our exact route will not be finalised until a few days before the workshop.
One of our key aims for the day is to help you to see the potential for images in all types of location and across all types of subject - to look not just for the spectacular grand vistas and classic poses but also for the more intimate, abstract landscapes, macros and wildlife shots that can be made almost anywhere. We will discuss things as a group - it's always fascinating to see just how differently we all view and interpret an identical scene.
We will look at how to make the most of conditions on the day - ensuring any kind light can be exploited to its best advantage. Almost without exception, there is no such thing as bad light! The course will start at 1.30pm and will run until dusk (approximately 10pm) - the exact finish time will depend somewhat on conditions.