Yorkshire Dales Autumn workshop planning and recce
Posted on 22nd September, 2014
Earlier this month, I spent a very long and rewarding day in the Yorkshire Dales with Oliver Wright as we start to plan our joint landscape and nature photography workshops for this Autumn. First of all I have to say how wonderful it was to be back in the Dales for the first time since early July! Returning to familiar scenes as well as discovering some new gems is always such a thrill.

Our first mission was to check out a potential new squirrel photographing location that a friend had told us about and which we hope might prove suitable for a small workshop group. The location looked superb but not a squirrel to be seen - it's still quite early in the year so we will monitor this site and hope it may come up trumps. If not there's no shortage of other subject matters in the Dales! We then wound our way to Dentdale, checking out a few more sites on route. There are some wonderful stretches of river and little waterfalls in Dentdale but, after such a dry summer, the water levels were very low - we'd not expect that to be the case come late October, but we shall see! Dent Head Viaduct offers a wonderful classic view in the right conditions - the light was rather harsh when we passed by but, with the right light and Autumn colours, this is definitely a location we'd like to include in our workshops.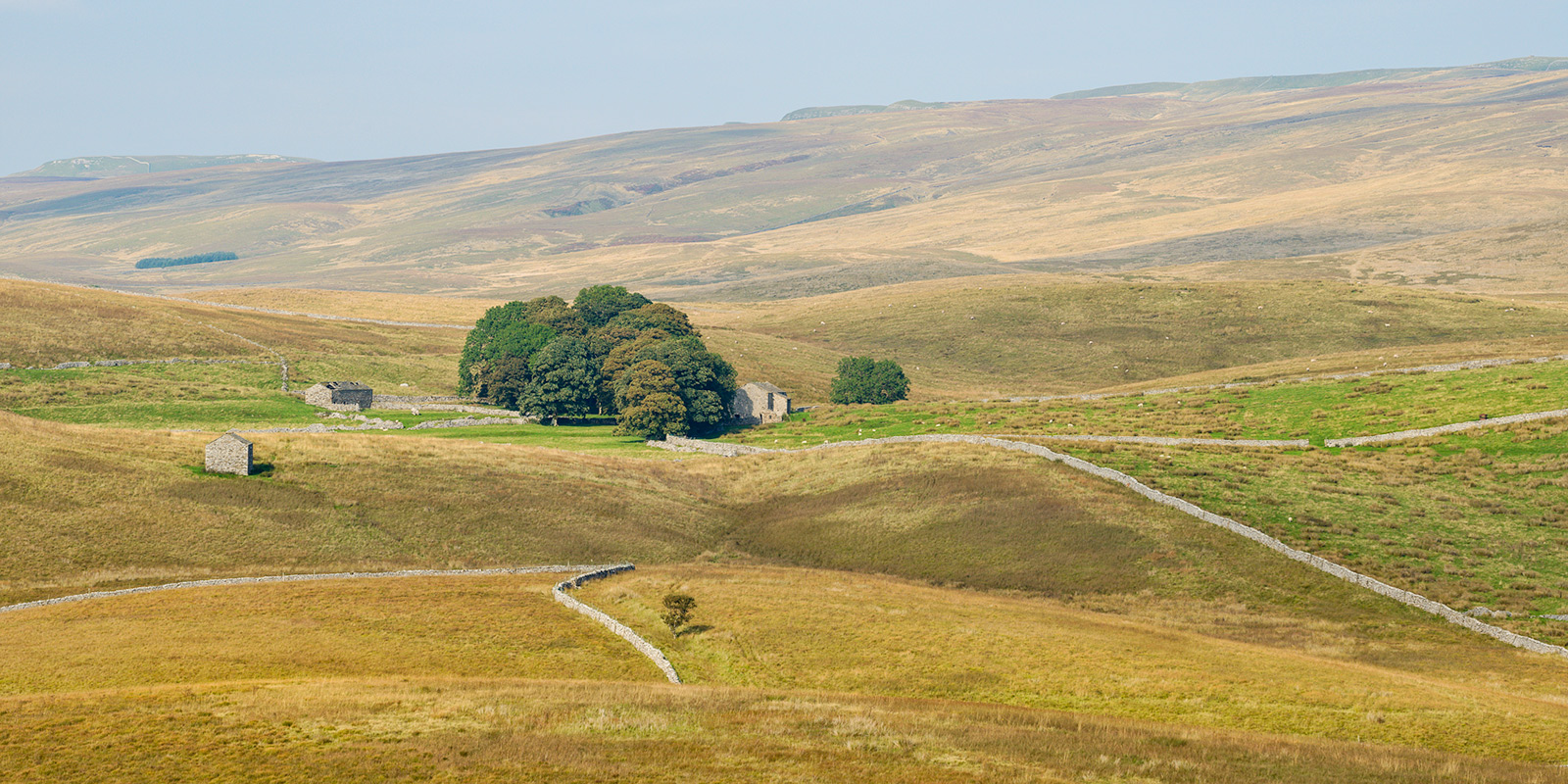 Next we continued towards Ribblesdale - I'm always a sucker for a copse and had to stop for this lovely scene, shot from the roadside. Although the Dales has more than its fair share of dramatic scenery, I particularly enjoy more understated views - of which it also offers plenty. The gentle curves and graphic lines of the image below I found particularly pleasing in the diffuse afternoon light:
Our next stop was Norber erratics - somewhere I had not been for about 10 years, so I was thrilled to return. I see things very differently than I did 10 years ago and both Oliver and I were very excited by the possibilities of this location. Although the erratics are seen by many as the main draw, I was particularly taken by the wonderfully gnarly selection of hawthorn trees dotted amongst this fantastic landscape.
I have recently started experimenting with an Infrared filter and I felt this hawthorn tree, set against the dappled sky, would make a good candidate for IR. It certainly adds a lot of drama to the scene although I do rather like the soft colours of the 'normal' wider view below, taken a little later when the light was more diffuse: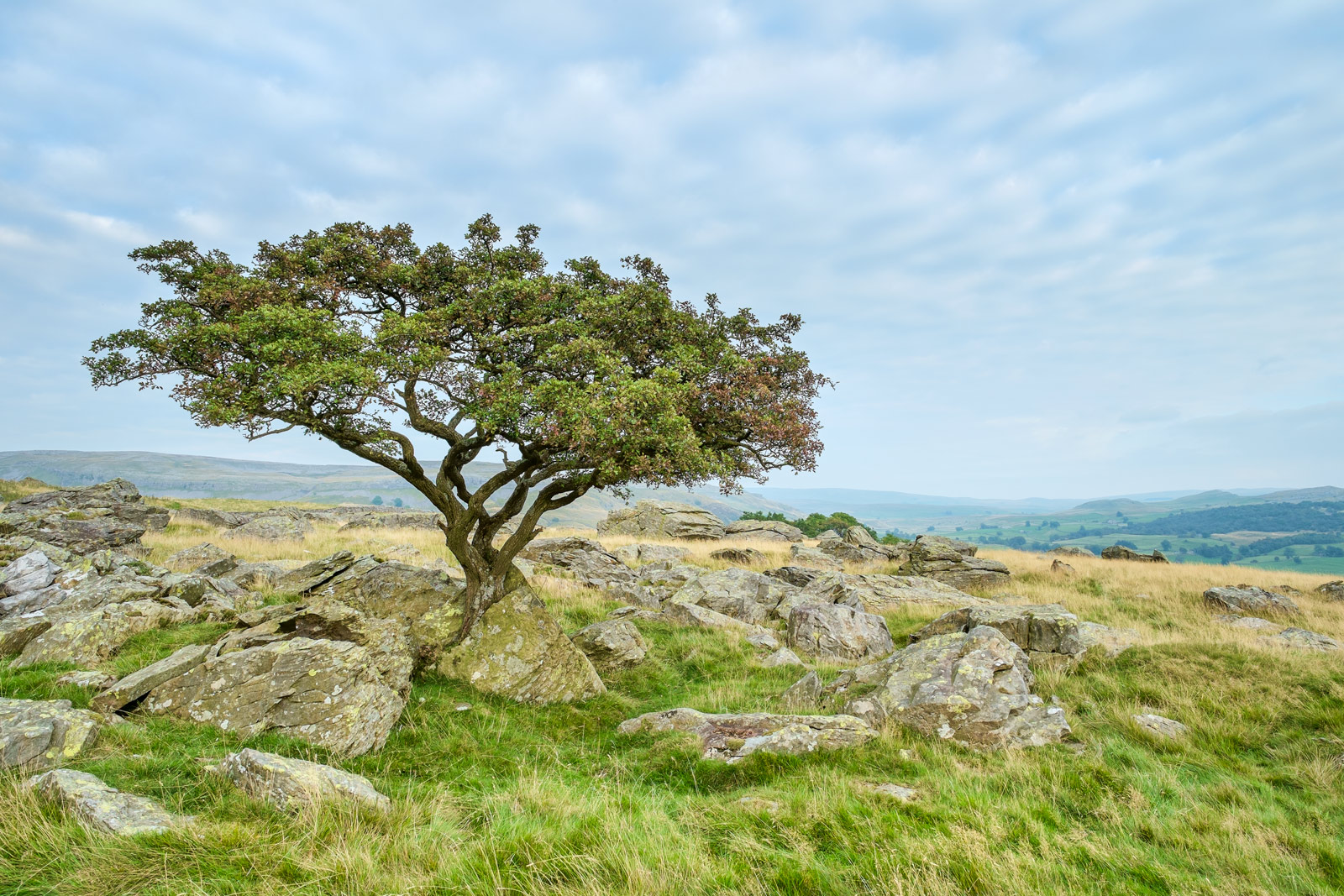 Next a more challenging composition of a group of hawthorns, improbably clinging to the hillside - I really enjoy trying to make some sense of more complex scenes such as these - I'm sure this one can be improved upon with more time but hope it shows the potential of the location: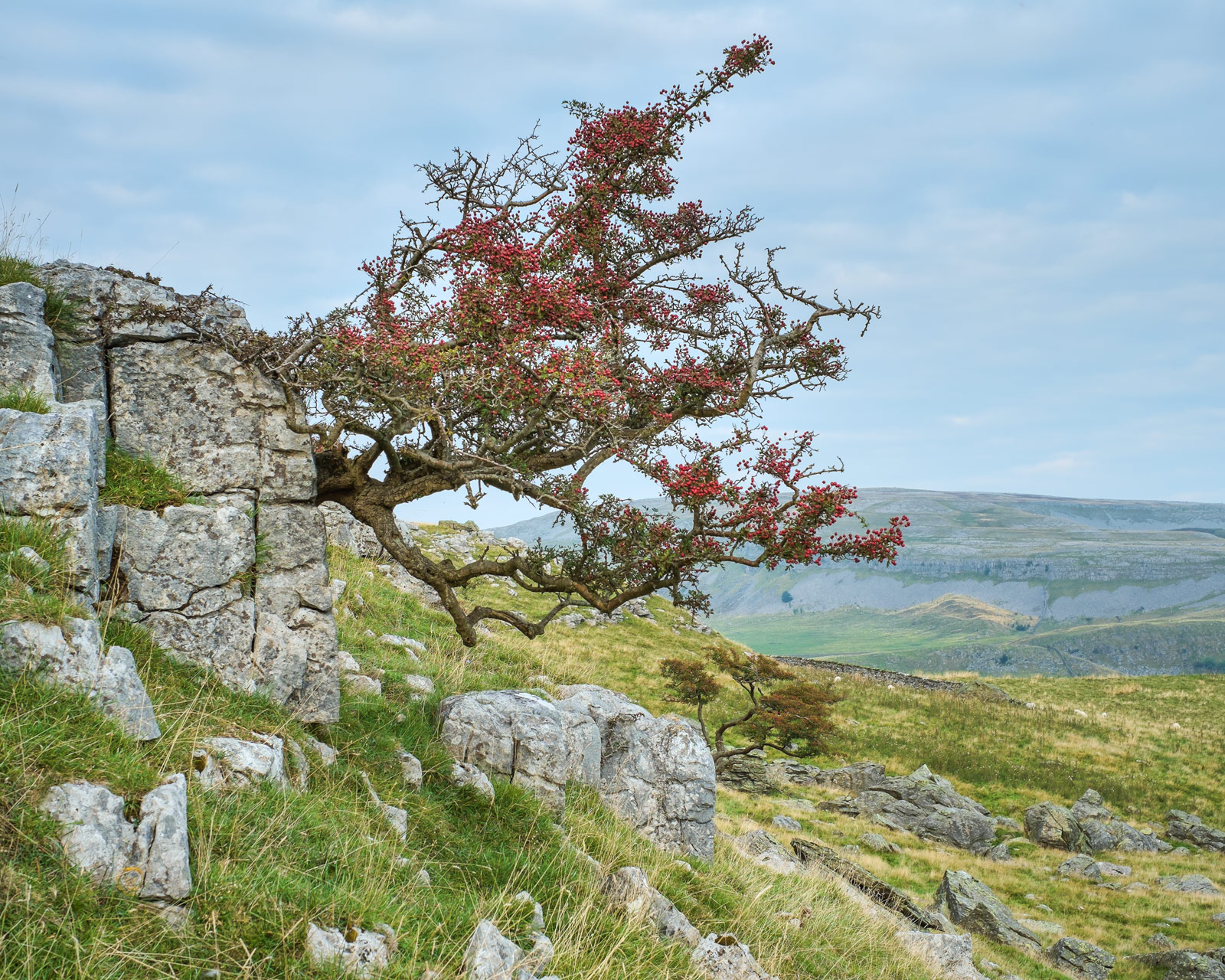 The light rather deserted us, which was a shame, but we looked to find ways of making use of the fabulous sky. The image below was taken lying down on the ground, deliberately creating a silhouette of the diving hawthorn tree and adjacent rocks: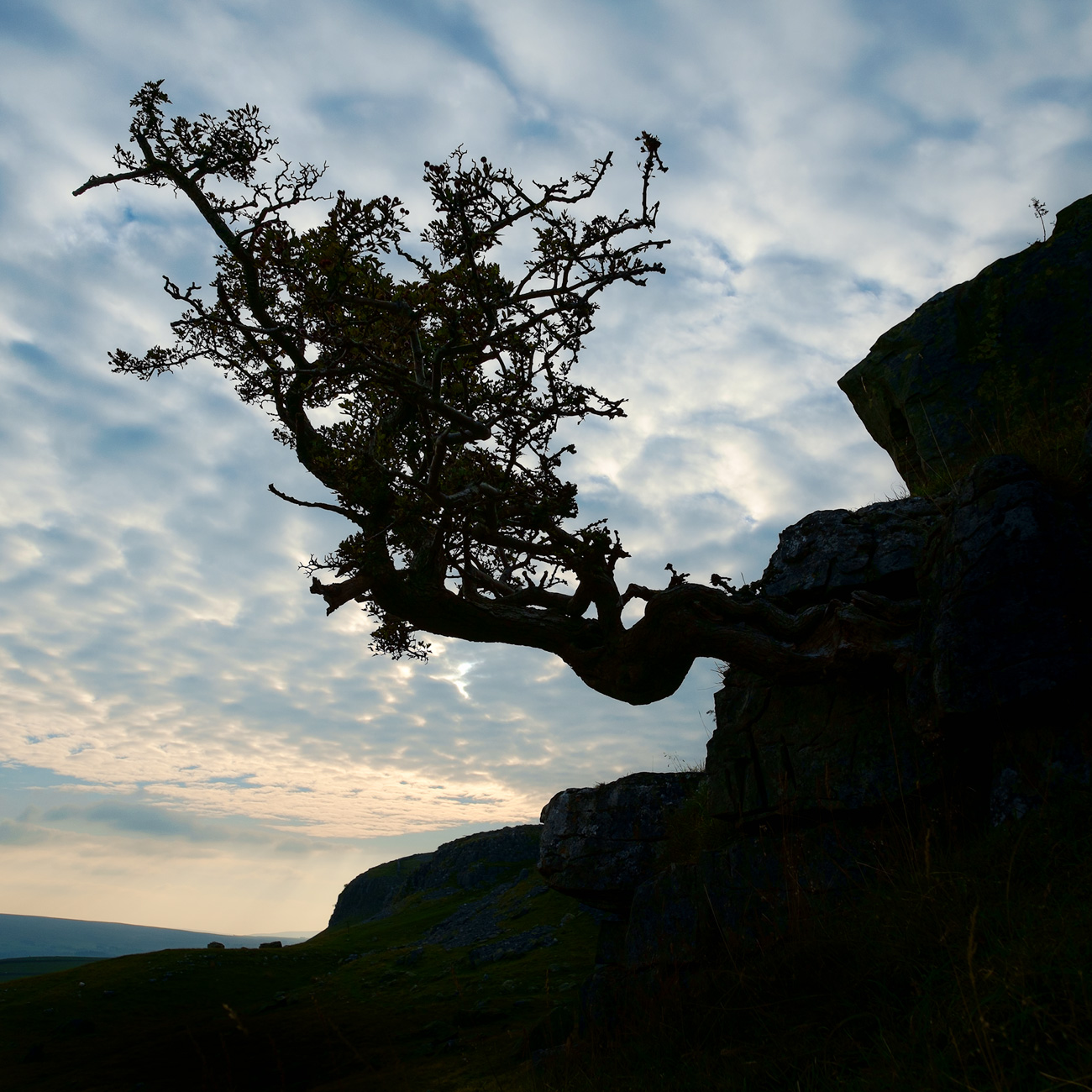 As we walked in, we had both been struck by a particularly fine hawthorn tree, awash with very red berries. We hoped to catch it in some lovely late light, but it was not to be. However, even in relatively flat light, there are plenty of options for more intimate, abstract compositions. Again, I feel I can certainly improve on the image below - but we had limited time with more locations to check, and I was still pleased with the end result: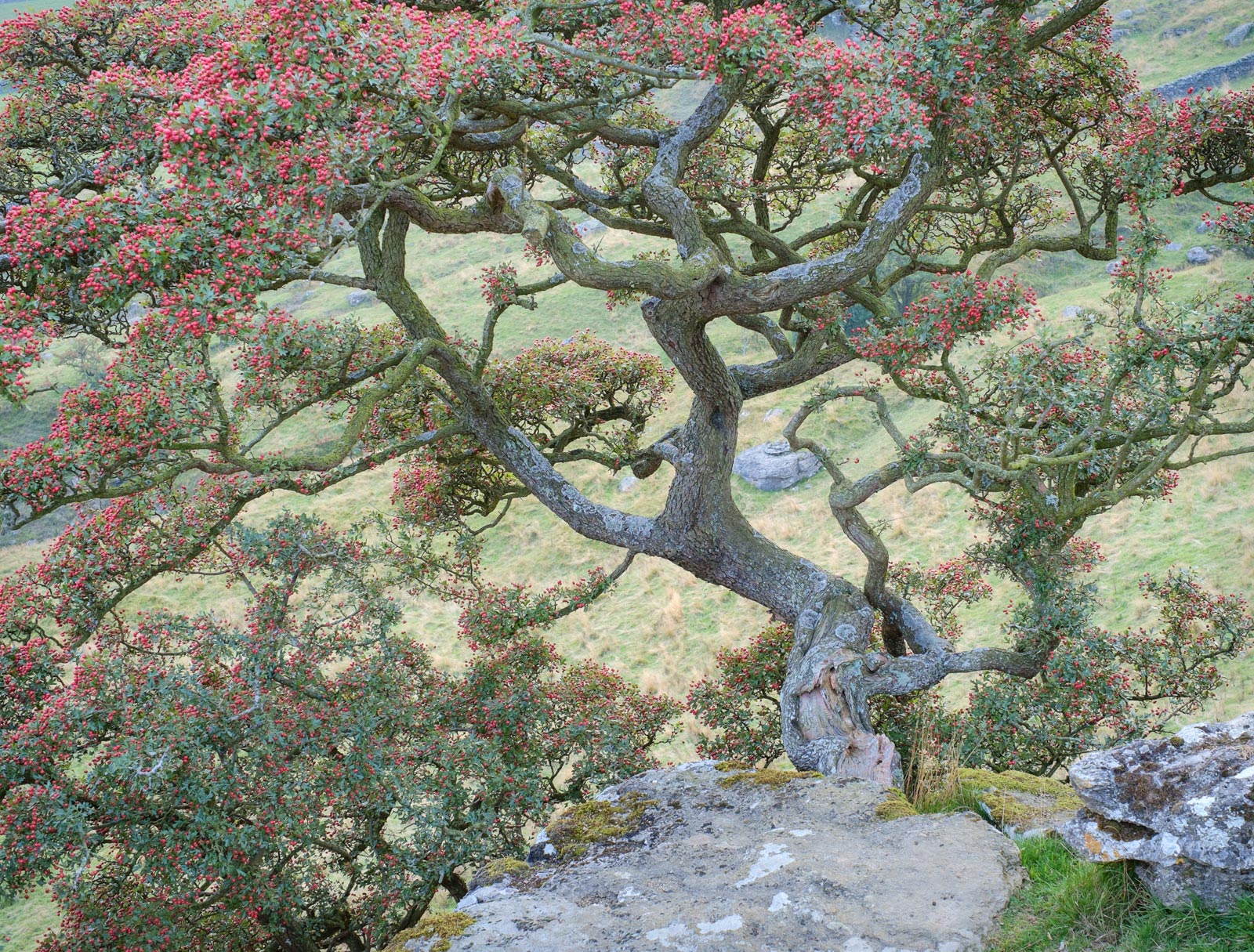 After paying a quick visit to Stainforth Force (first for me) - where we hope to catch jumping salmon during the Autumn, we headed for our final destination of the day. I had visited Winskill Stones in light winter snow previously but this was my first visit to this popular view of yet another lovely hawthorn tree and limestone pavement! The angle of the sun was not ideal for what seemed the optimum composition - though in a month or two's time, it will be pretty much where I'd like it! The light had almost gone, so it was a bit of a mad rush to get the image below: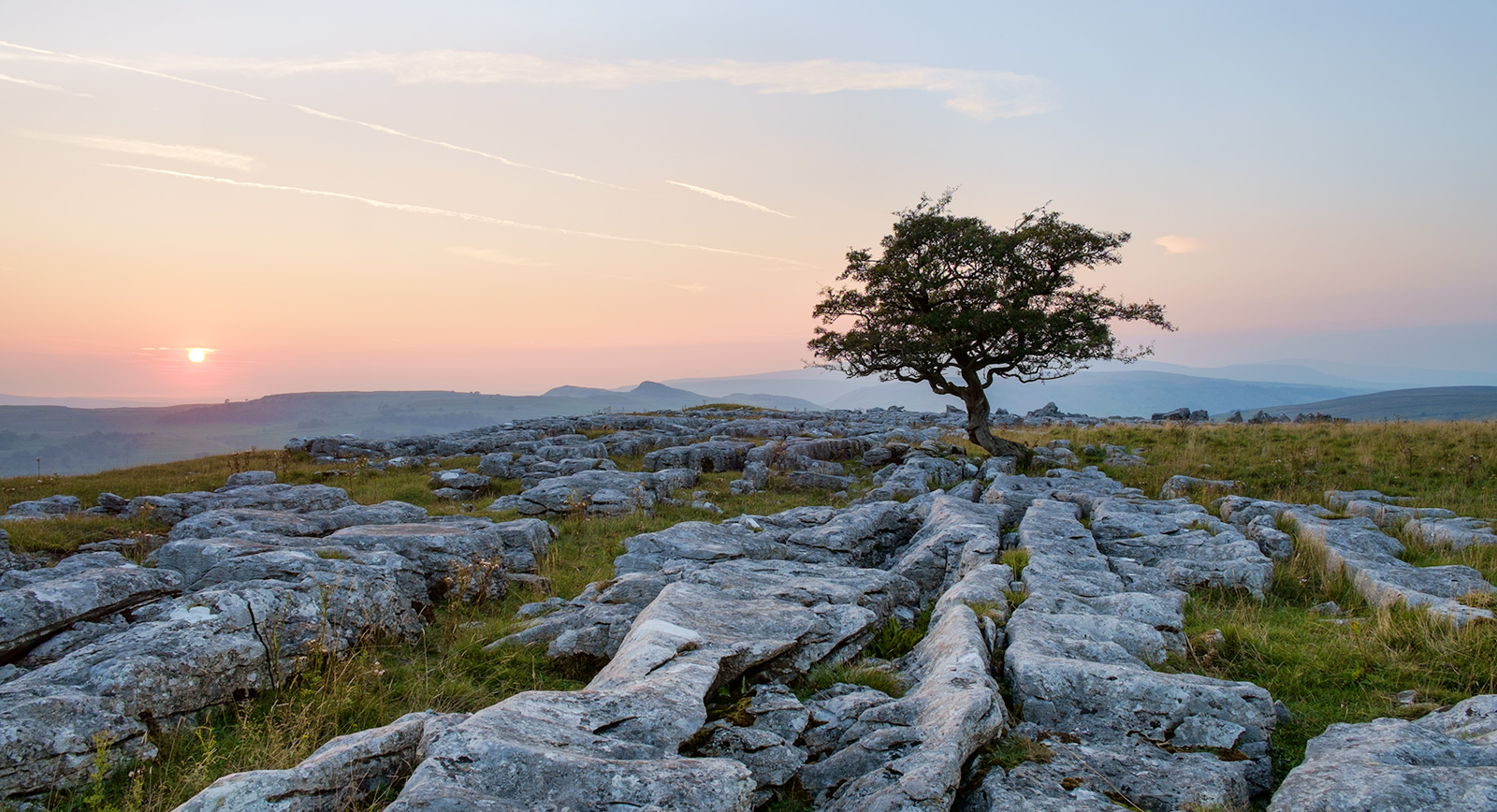 Homeward bound then, after a long and exhausting day! Both very excited about the prospect of further trips, planning and fine tuning a set of locations for our Autumn workshops. We like to have a varied list of subject matters and locations so we can make the most of conditions on any particular day and also fine tune our offering to the needs of each group. However, I thought it might be useful to give an idea of what sort of planning goes into running a workshop. Seeking our new places is always something I like to do - it keeps me fresh and Yorkshire is so huge, I don't think I will ever discover everything! Likewise, I love returning to old haunts - things change all the time, the way I see things develops all the time - and so, there is always something new to be seen. We are planning to run the workshops on 22nd and 28th October and 1st November, from dawn until dusk. They will be quite long days but we can promise you a fulfilling and rewarding session of photography and very much hope you can join us. I will be publishing a workshop page with more details this week.