Tripod Travels' Heather & Sea workshop report
Posted on 25th August, 2014
​Last weekend,
Alex Hare
and I were joined by a group of six lovely photographers for our North York Moors and Yorkshire Coast weekend workshop. We were based at the
Old Manse Hotel
in Pickering and arranged to meet everyone there at 12.00 on the Friday.
After an introductory session and a light lunch, we headed off for our first location - parking up at Goathland and walking down the steep path to West Beck and Mallyan Spout. It's quite a slippery spot for photography but there are so many different subjects to tackle, it makes a brilliant place for a group session. This alien like tree is a favourite of mine, although I've also heard it called a spider and a rabbit and Kirsten (our Norwegian participant) assured me it is in fact a sleeping troll!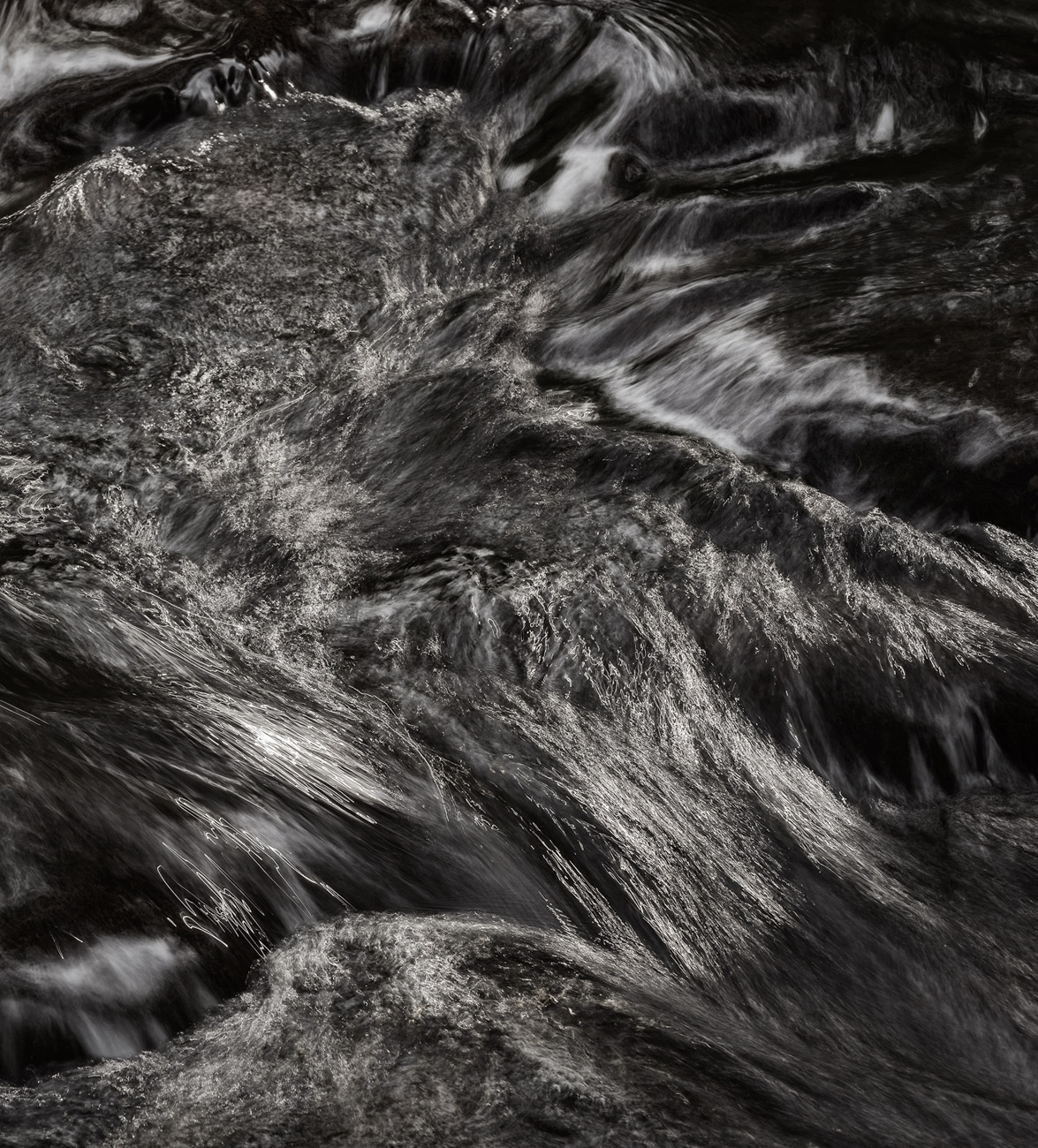 We spent several hours down there and it was so pleasing to find that every member of the group wanted to take their time, exploring different options - really working the location. Most of mine and Alex's time was of course spent working with the participants, who ranged from very experienced to relatively new to photography, but there was the occasional opportunity to take a quick photograph - often we find it is the best way to demonstrate something. Walking back out was rather hard work but we rewarded ourselves with a cup of tea and snacks at the Mallyan Spout Hotel before continuing to the Hole of Horcum and the surrounding moorland for our evening shoot.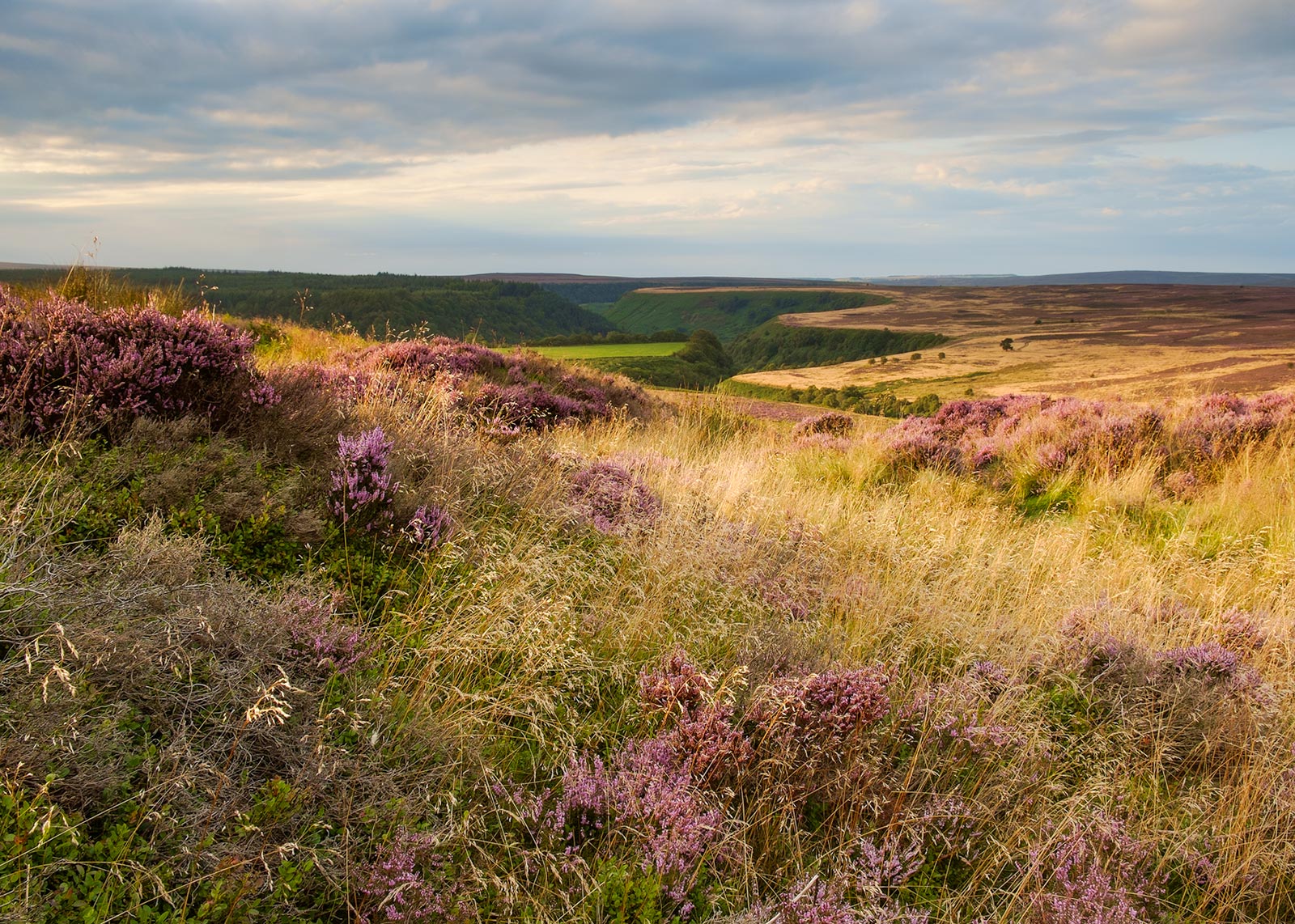 As we got to the area above Newton Dale, we had some brief moments of glorious late sunshine - just time to set up and catch this lovely side light on the foreground heather and grasses. Unfortunately we had some particularly evil midges for company and we were soon driven from this slightly sheltered spot to somewhere with a bit more of a breeze.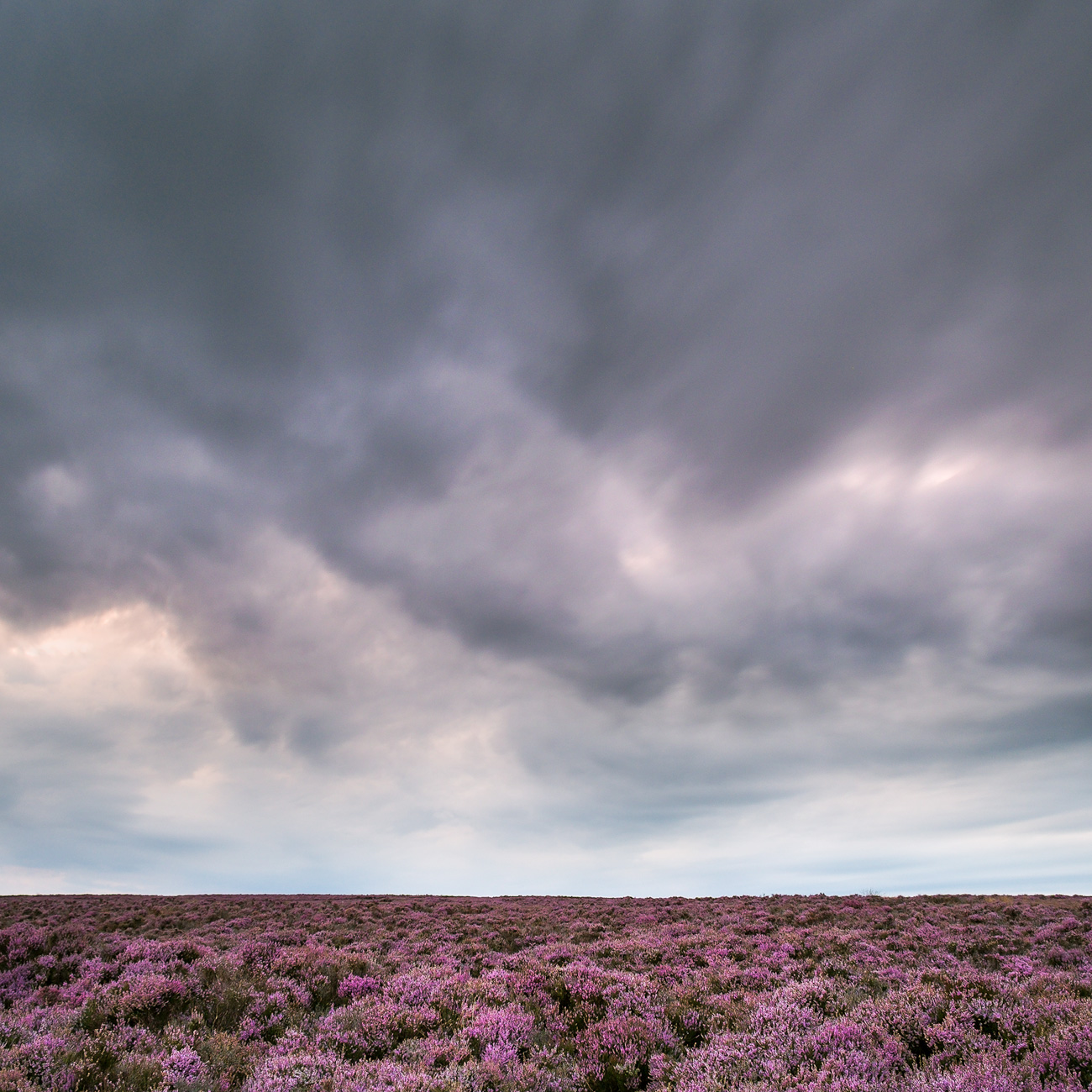 With the breeze came more clouds - a repeat of the sunset colours I'd enjoyed here a week or so earlier were not going to be repeated, but there were some cracking cloud formations and we made the most of what we had to work with. At least the midges had gone! We then returned to the hotel for a lovely home cooked meal and swiftly to bed to prepare for an early start.
We set off at 4am on the Saturday morning, driving in two cars to Saltburn by the Sea. Colours were largely quite muted but we had some moments of lovely light throughout the morning. I took this long exposure with the Fuji XE-1, leaving my tripod and bag unattended whilst I helped members of the group with their pictures. Not the best idea with an incoming tide and my camera bag and filters got rather a soaking!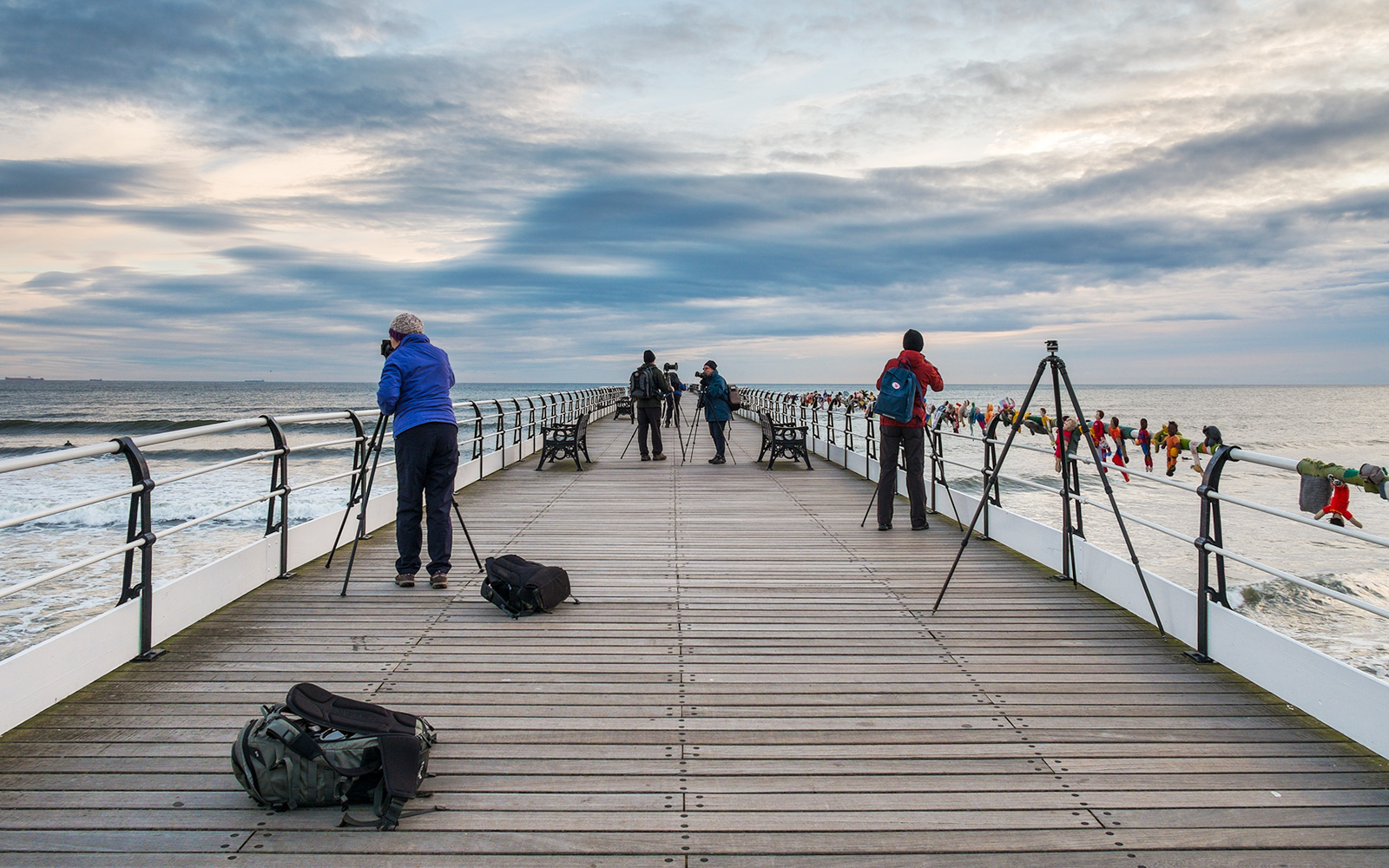 Again, Saltburn is a brilliant location for a group because there are so many different subjects to tackle - the pier itself, great views either side and plenty to explore further afield. It's also a great place for minimalistic seascapes and I took a few examples when the light was at its most metallic:
The last image here was exposed for much longer than I'd intended as I was talking with one of the group - such is the latitude of the Fuji files and the leeway of longer exposures, I was able to bring all the details back in processing. Alex took some of the group up above the cliff railway for the classic view down onto the pier whilst the rest of us had great fun photographing the surfers. I quickly tried something I'd wanted to do for a good while - a five frame multiple exposure burst with the Nikon D800e and 70-200mm - not bad for my first attempt and something to work on: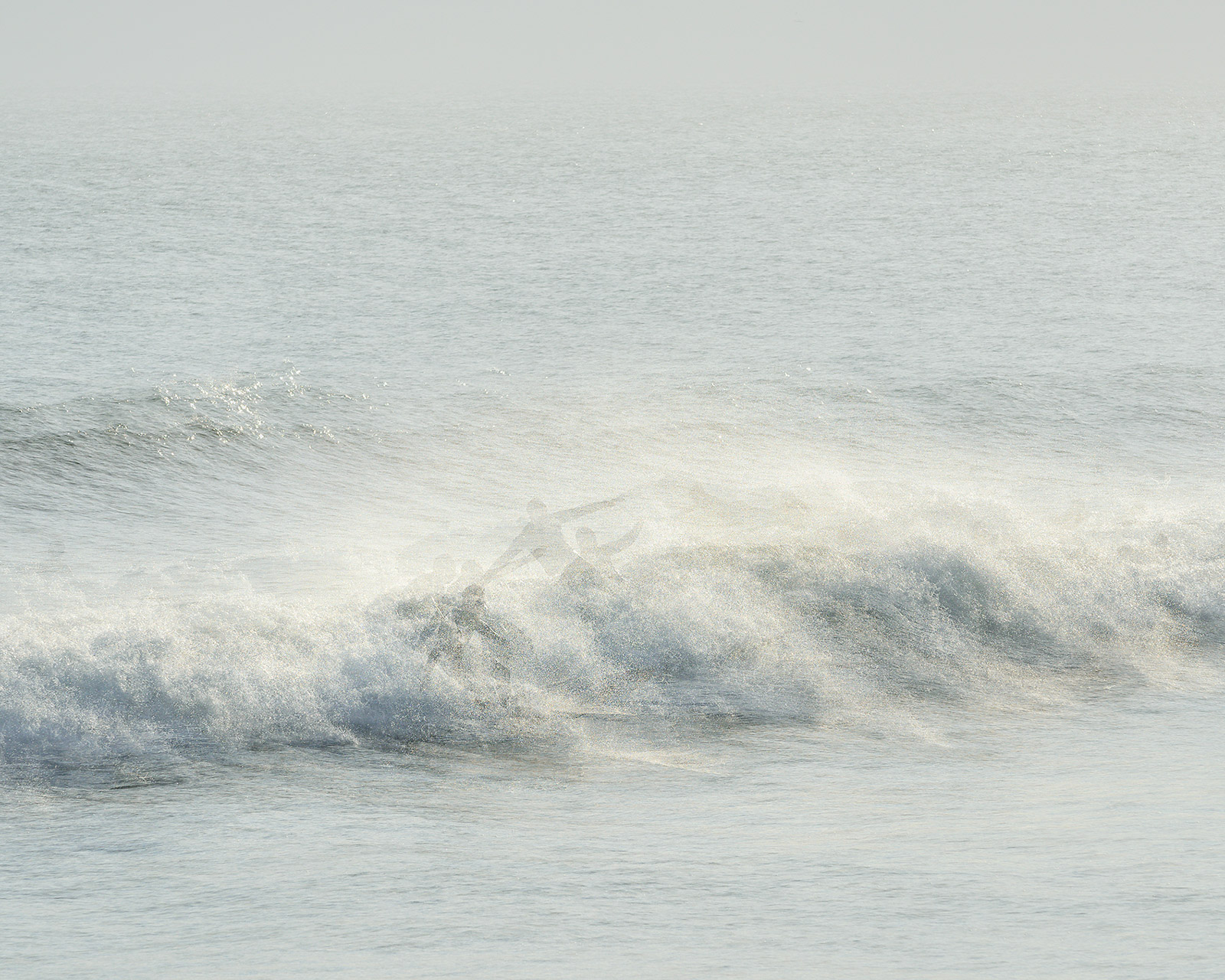 A great morning and time to head back to the hotel for a well deserved cooked breakfast and an hour or so in our rooms to try and catch a nap. We followed this with a short Lightroom training session and then set off for one of our all-time favourite locations - Saltwick Bay.
Conditions were on the whole better for more intimate landscapes than for wider images, although the wreck and Black Nab are always an attraction, particularly for new visitors to the bay. Again, though, it was so pleasing to see all the group getting really involved with some challenging abstracts and great to find so many other rock lovers!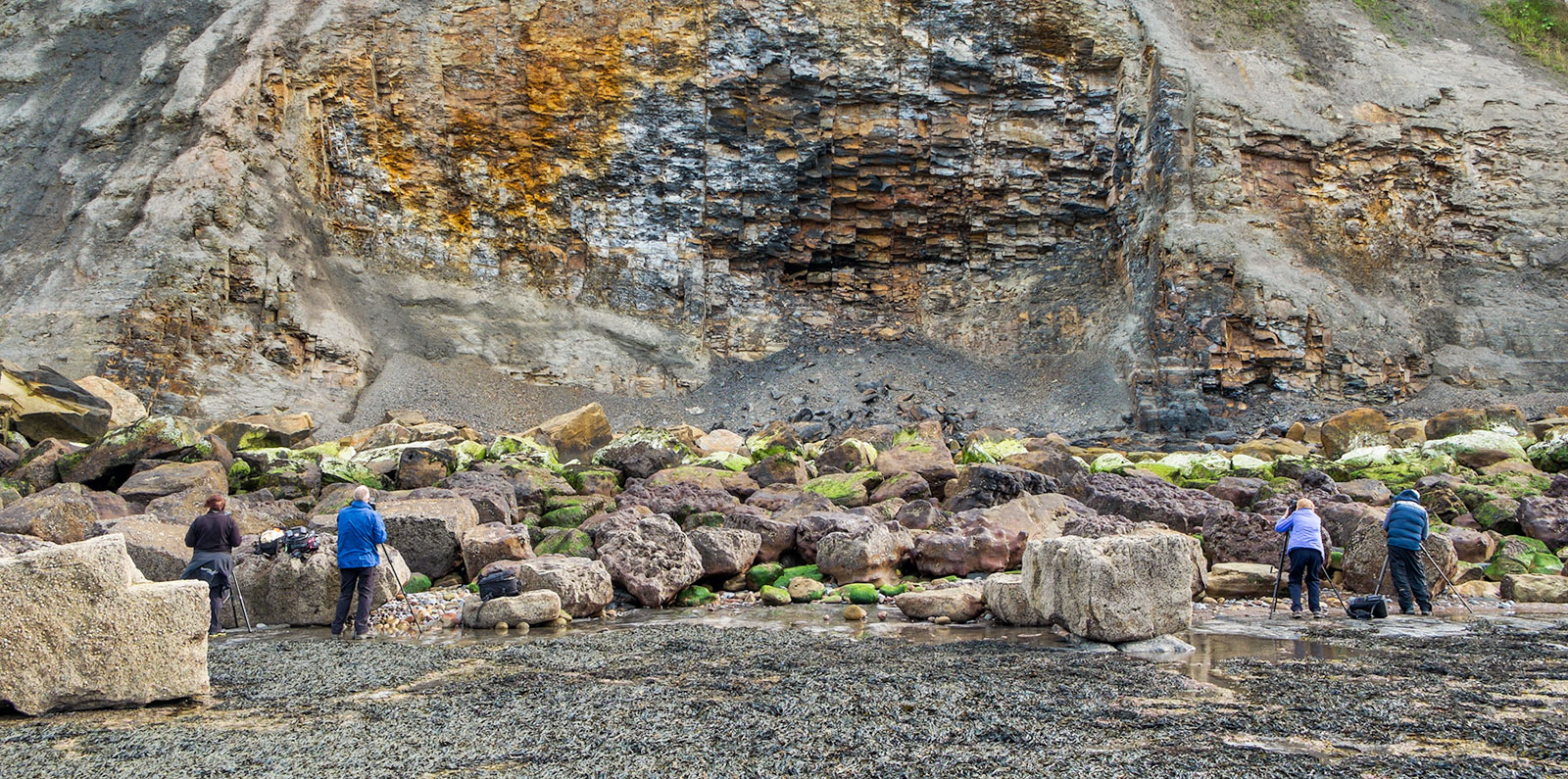 We'd timed our visit to ensure we made the most of the very low tide and were able to move around without danger of getting cut off by any fast moving, incoming tides! Yet another steep walk out and then refreshments at the Saltwick Bay Cafe.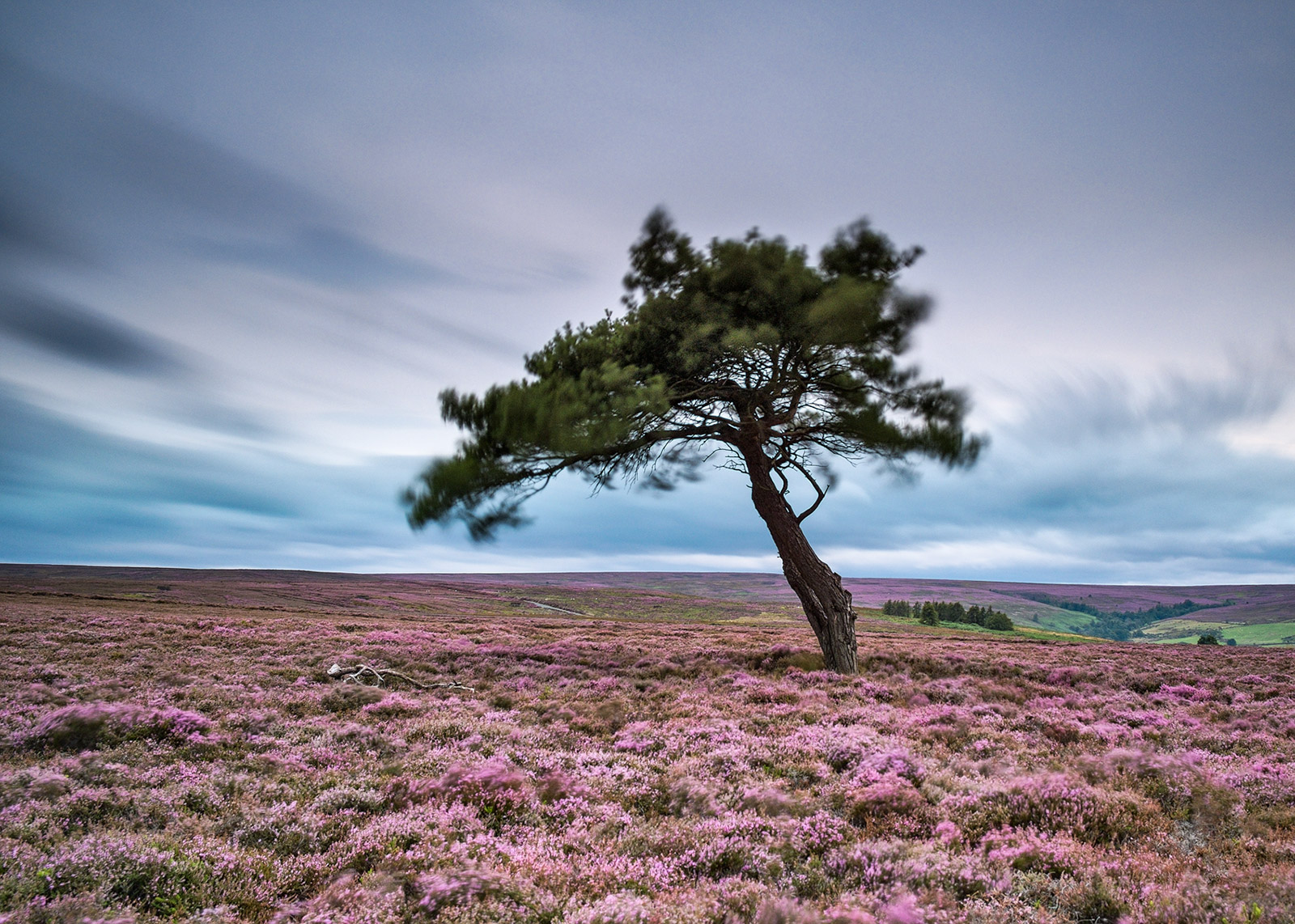 Our last stop was a favourite lone tree on Egton High Moor - potentially a fabulous spot for evening light and sunset, but the weather gods were not on our side this time. We spent a good while, buffeted by the winds, working on long exposures and watching the clouds shoot by, before taking a considered view that we were just not going to get a sunset that evening. Back to the hotel for a session on Bridge and Photoshop, before another delicious home cooked supper. Everyone was delighted to have a little lie-in the next day with our departure time a mere 4.25am! We headed up to a wonderful spot on Glaisdale Rigg with plans to walk up above Great Fryupdale as well. The clouds had other ideas and sunrise eluded us - but once again we explored how to work with what you've got and what to do when plan A doesn't materialise…
We stopped near another favourite lone tree on our way back to the hotel and, this time, the weather gods were on our side! The super cloud formations were already giving us something to work with but then, for a good few minutes, the sun broke through the clouds, working its way across the moor. Patience rewarded! Back to the hotel via Blakey Ridge and time for another very well deserved breakfast. Another little nap before checking out of our rooms. Then time for another session on Photoshop in the hotel. At this point the weather had really closed in and we wondered whether we would get a good afternoon shoot.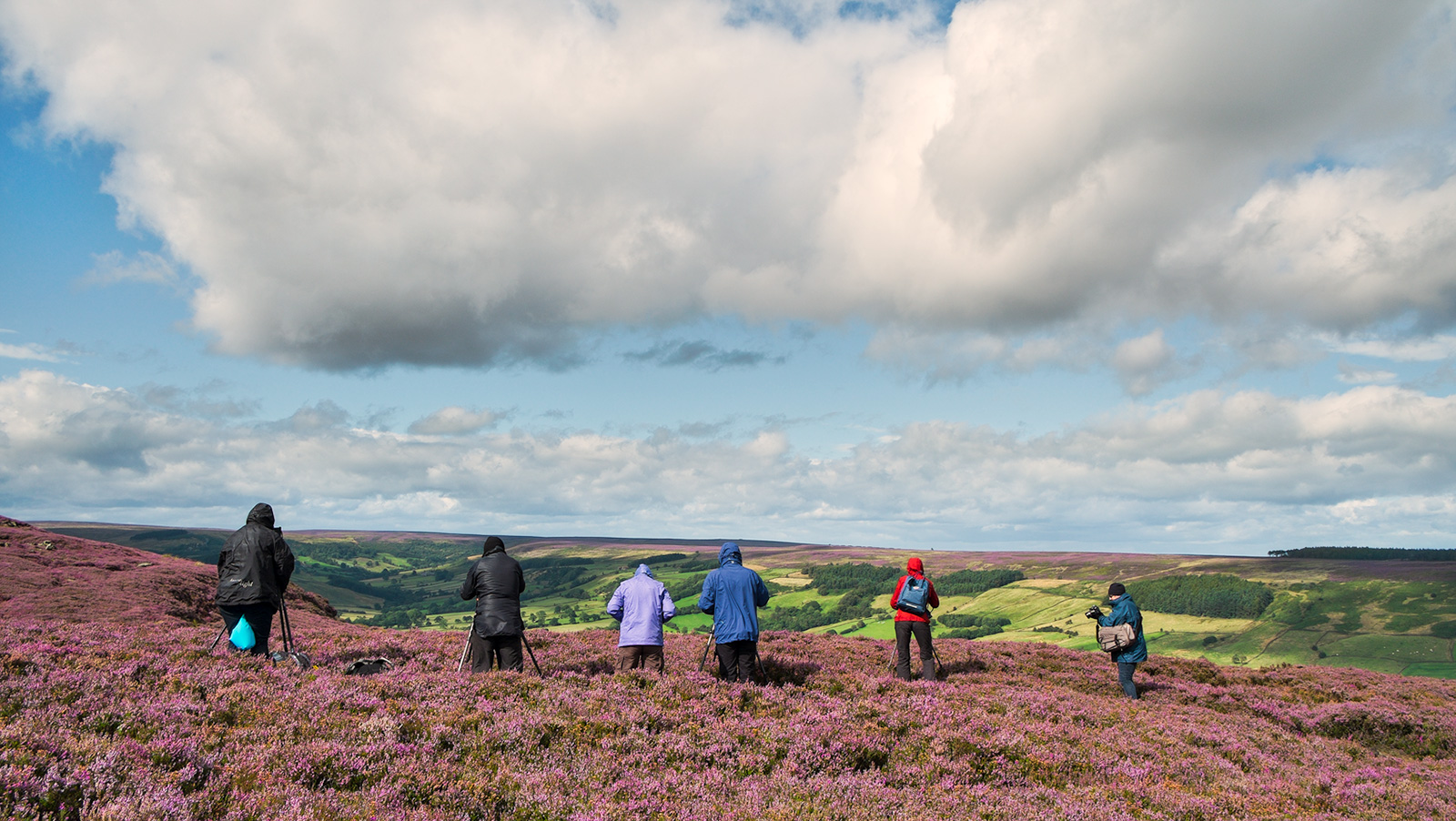 As it happened, the weather lifted and we headed up to Spaunton Moor confident of catching some lovely heather, great clouds and even some great light. After some time at Ana Cross we headed across to a super spot overlooking Rosedale. For the first time on the workshop, everyone's cameras pointed in the same direction - great views and light for our last stop.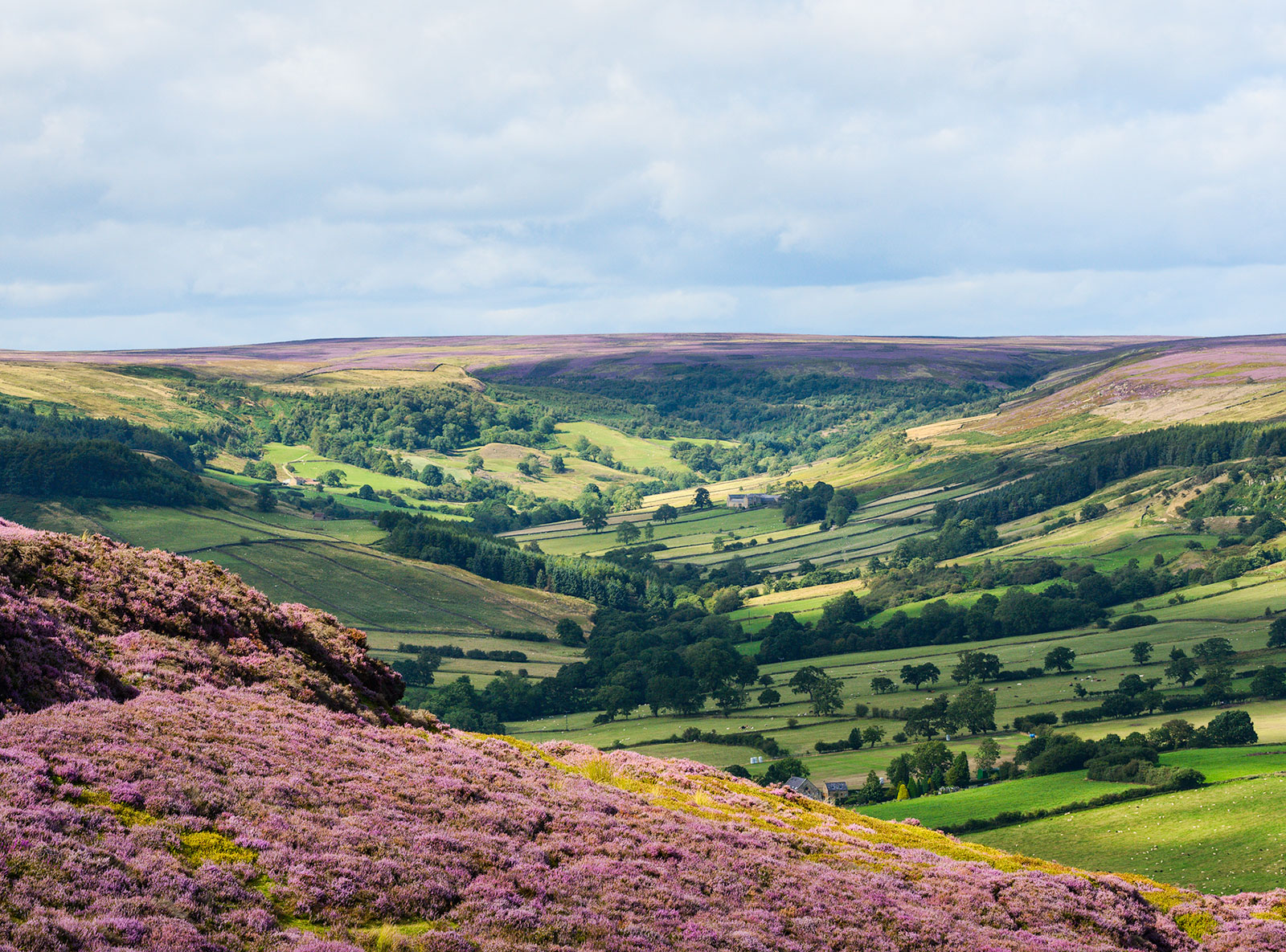 With the conditions being so kind to us that afternoon, we ended slightly later than intended - getting back to the hotel around 5.00pm before all heading our separate ways. It was a full-on weekend, with long hours but we really couldn't have been happier the enthusiasm and get-up-and-go of all the group members - a really rewarding group to teach and a thoroughly enjoyable, if exhausting weekend!