Autumn in Nidderdale AONB : one day photography workshop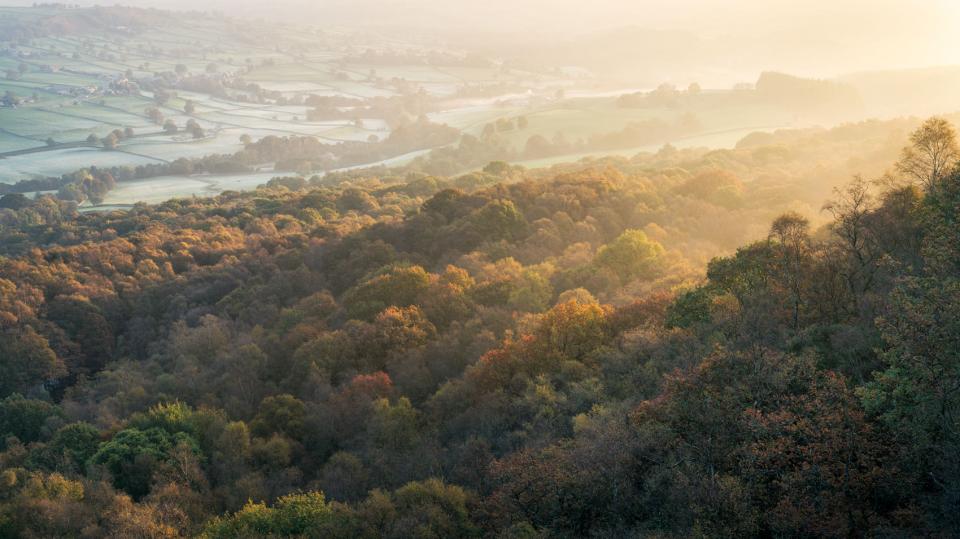 The emphasis for this workshop will be photographing woodland an we will spend good time in two or at the most three locations. Depending on conditions, we may take in the odd big view as well, but details and a different perspective are the priority here. I plan for us to spend our time in the Nidderdale AONB, which includes the beautiful and relatively less known Washburn Valley.
Autumn has become increasingly unpredictable of late but, even where trees have lost their leaves, there are wonderful images to be made, focusing on the structure and colours of trunks and branches. Moorland grasses also look fabulous in their autumn guise - particularly if we can catch them with a little jack frost or a hint of mist! We will also be looking at how to create more abstract compositions of the trees and leaves.
Working with such a small group, I'm able to cater for both the very experienced and less experienced photographer. Given the challenging nature of woodland photography, these particular workshops may not best be suited to a complete beginner - but, if in doubt, please do get in touch. I am there to give you as much help as you would like and the day is both about learning and experimenting but also about having fun!
I have in mind some specific locations but plan to keep a bit of flexibility, given that weather and leaf colour can all vary enormously from year to year. One of my key aims for the day is to help you to see the potential for images in all types of location and across all types of subject and, in particular, to help you identify and capture the more intimate, abstract landscapes, macros and nature shots that can be made almost anywhere.
We will look at how to make the most of conditions on the day - ensuring any kind light can be exploited to its best advantage. Almost without exception, there is no such thing as bad light! We will also spend a little time learning about processing techniques and looking at the various options available. I will finalise a start time and place nearer the time - but the plan is for a dawn start, unless dictations dictate otherwise. We will meet at an agreed location and will probably walk from there; although we may also drive to a couple of other nearby locations.
If you'd like to know a little bit more about what to expect on one of my workshops, please have a look here.
Practicalities
What time does the workshop start and end?

The plan is to aim for a dawn start (around 7am), although a final decision will be made in the days before the workshop, in case conditions dictate otherwise. We would look to finish around 2.30/3.00 pm in that instance.

What should I bring?

Camera and a selection of lenses - ideally covering wide angle to telephoto and macro if you have one. Tripod, spare batteries and memory cards. Good walking boots. Clothing for any kind of weather. Comfortable backpack or shoulder bag .Waterproofs for you and your gear. Plenty of water and sandwiches / snacks

How fit do I need to be?

There will be several miles of walking - this will vary according to conditions - but expect a minimum of 3 miles; some of the paths are quite steep, but we will take our time. You may not want to overload your camera bag.

Can I borrow a Lee filters kit?

You are welcome to borrow/share a Lee filter kit - including big stopper, little stopper and ND grads. Please note this is at your own risk, although we've had no breakages to date! Please ask in advance and advise of the filter ring sizes of any lenses you may be bringing.
To book this workshop, please contact me and I will send you further details and a booking form.

Contact Me

29th October 2021


£150 / £70 Deposit

fully booked

1 day

7-8 hours tuition and guidance from a very experienced workshop leader
Post workshop critique of 3 images

Transport, insurance, refreshments and other expenses

4/5

A reasonably good level of fitness is recommended with a few steep stretches

Nidderdale AONB