London cityscapes and abstracts with the Fuji XE-1 and Redged tripod
Posted on 29th June, 2014
​If I needed a reminder that I should find a little more time for cityscapes and architectural photography, then I certainly got that on my recent visit to London. I was down for a meeting to discuss a women in photography programme for the Photography Show next year and took the opportunity to travel down on the afternoon beforehand, hoping for some great conditions for photography. How lucky I turned out to be!
I was staying in a super flat owned by friends near Holborn - it's on the 10th floor of a tower block and offers some great views over London. I waited a while before heading out - to see how the conditions were going to develop - and, in the meantime, had fun doing abstract shots of some of the nearby buildings.
Things were a little grey to start but the forecast suggested the clouds should break up later in the evening.I had travelled light, bringing down my Fuji XE-1 camera with the 18-55 and 55-200mm lenses. I had a full size Lee filter kit with me - I'd love the diminutive Lee Seven filter system but its bigger brother works just fine… This was all packed into an F-Stop Shibata shoulder bag. I also had Redged travel tripod with me. I own the TSC-27 tripod - a very light but reasonably sturdy 4 section tripod that extends to a good height - with the excellent Arca P0 ballhead on top: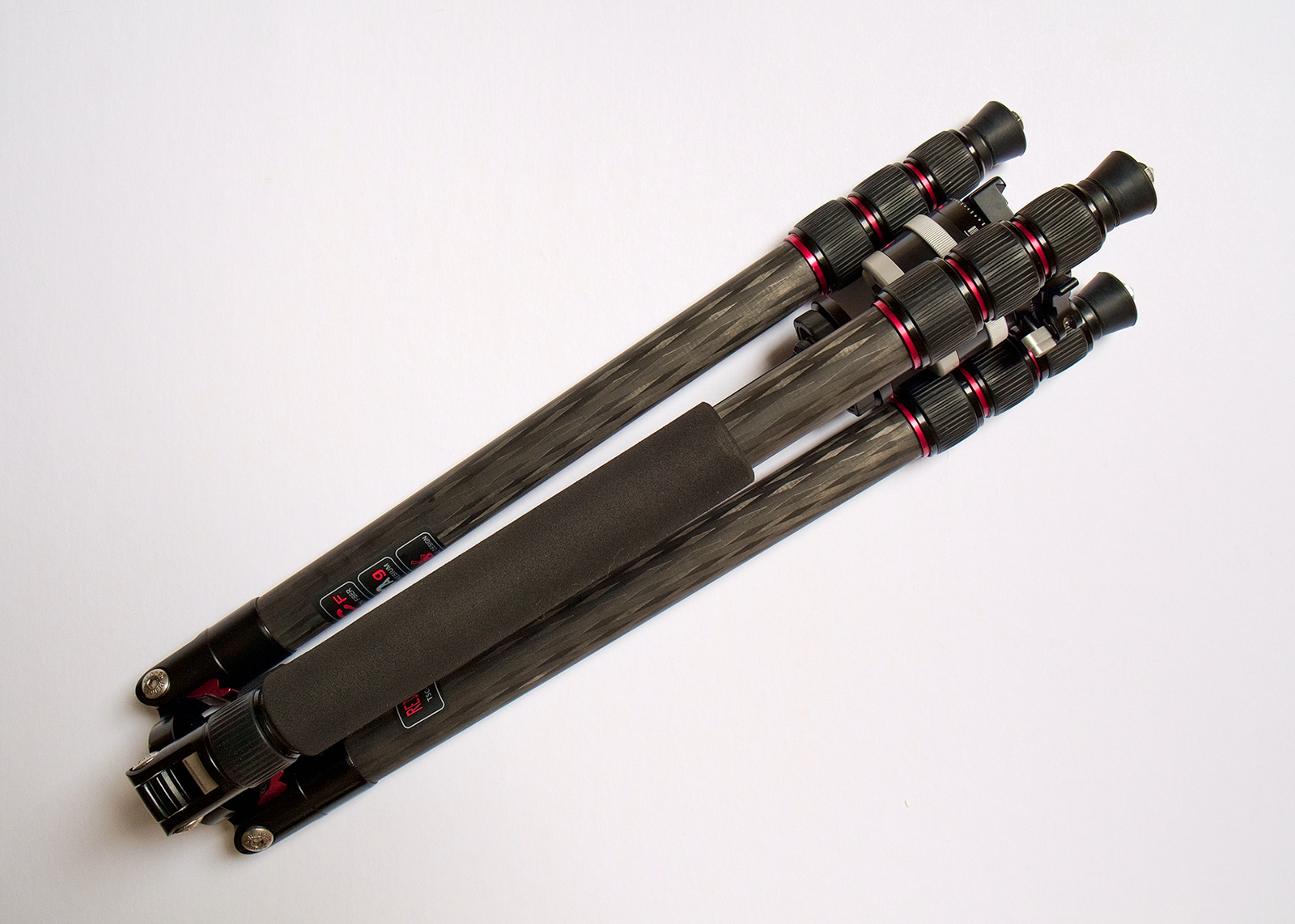 I headed out at about 8.00pm - as England began their World Cup game against Uruguay! - and made my way down through Covent Garden and across Waterloo Bridge. Time to stop for a classic picture towards Westminster in the lovely evening light - always a bit of a busy composition with so many bridges and buildings intersecting!
A little further along the bridge, I was struck by all the beguiling shapes of the National Theatre, and I found a combination of shape and colour that rather appealed. Thank you to the obliging corvids who positioned themselves so perfectly! And to the various passers by who kindly stopped for fear of impeding my line of view - I couldn't believe how considerate people were - I certainly didn't expect them to wait for me!
It was then time to decide whether I turn left or right. I've done very little photography in London and was torn between Millennium Bridge and Big Ben. The latter won though I forget the reason why… ;) Of course I had to make a quick stop at the London Eye - its graphic lines at their best in the evening sunshine.
Things were pretty quiet, with many watching the football, but there were still a number of photographers standing close to Westminster Bridge. I found what seemed to me to be the optimum spot and was glad no-one had already taken it.
We were blessed with a pretty spectacular sunset - not bad going for my first serious evening of photography in London. I experimented with a number of different exposure times, using a polarising filter and variety of Lee ND grads and the 6 stop Little Stopper ND filter. One of the joys of using the Fuji XE-1 compared to my Nikon D800e is the fact that I do not need to use LENR (long exposure noise reduction) - the files come out beautifully clean just as is. I believe the issue with the D800e is something to do with packing all those wonderful pixels into a relatively small sensor (compared to medium format).
Less than quarter of an hour later, things were looking very pink all round, with a pleasing mix of natural and artificial light and colours on display! By 9.55 I felt conditions had peaked and finally packed up my bags - very happy with my choice of location and my decision (an easy one) to go out and make the most of London rather than watch England losing a football match! It was also wonderful to be travelling quite so light - I find a compact system particularly advantageous for city photography and the Fuji cameras and lenses really do produce superb results.
I had a couple of days in London, joined later by my husband - although there was less time for photography thereafter. I kept returning to the abstract shots from our friends' flat, enjoying the change in colours and reflections at different times of day:
Saturday was a gloriously sunny day and we went for a wander along the river, just enjoying the architecture and watching life go by. There wasn't really much time for me to stop to take photographs and the light was often a bit harsh - but I did find time for a couple of abstracts inside the Tate Modern:
I was impressed with the Fuji's ability to handle the tricky light and dynamic range of this shot:
I came away with my appetite for London photography very much whetted. And on my return, inspired by the wonderful architectural compilations of
Tom McLaughlan
, I put together a 5x5 block of abstracts, almost all taken from the balcony of our friends' flat. There are infinite options for compilations like these and it was quite a challenge to come up with the final layout.